Live in Hong Kong or
Live in Hong Kong with Bamboo Grove
Arriving in Hong Kong for the first time can be both exciting and challenging. Everything is so different. The crowds. The pace. The language. At the same time, new job may be starting within days upon your arrival. New friends and a nicely set up home would be crucial to a good start in a new place. At Bamboo Grove, our team of experienced, bi-lingual staff are always ready to assist you with practical advice and assistance whether you are in town or travelling on business. The clubhouse also organises regular classes and social and cultural activities to help residents make new friends, learn more about Hong Kong and make living at Bamboo Grove a genuine pleasure.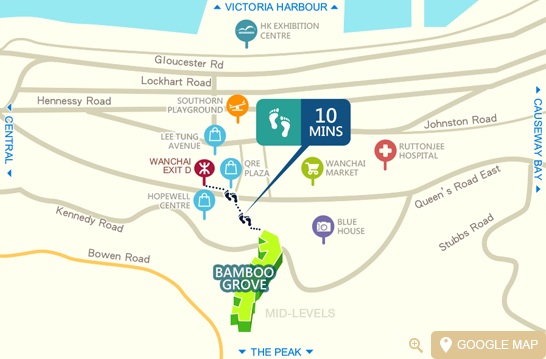 Bamboo Grove is located at No.74-86 Kennedy Road, Mid-Levels, Hong Kong.
MTR
Playground
Market
Sightseeing
Shopping
Hospital
HK Exhibition Centre
Walking to WANCHAI STATION: 10 mins
Driving to CENTRAL: 10 mins
Driving to CAUSEWAY BAY: 5 mins